Transferring Stock from Computershare to TD Ameritrade
This page contains links to our partners. RBD may be compensated when a link is clicked. Read disclosures.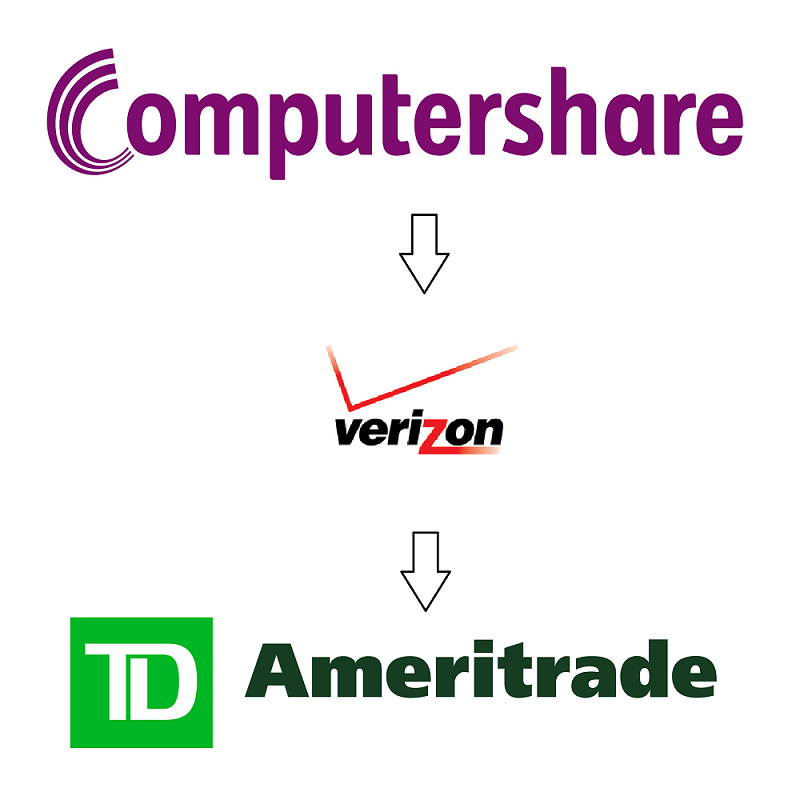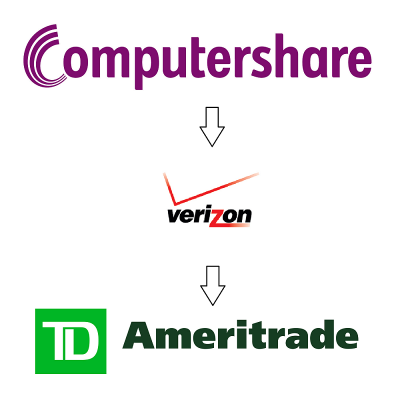 I recently made a simple move that increased my passive income by $12 per year. This move has other positive effects on my long-term goals because it helps to simplify my finances and taxes, and will further diversify my investing through pooling dividends to buy new stocks.
I transferred all of my Verizon (VZ) shares from Computershare to my TD Ameritrade taxable account. I held Verizon stock with Computershare for more than 10 years. Performing this transfer moves the shares out of my own name and into street name. If you are unsure what that means, I'll explain.
Street Name vs. Shareholder Name
Back in the day when you bought shares in a company, you were issued a stock certificate. The shares were held in the investor's name which was on the certificate. It works the same when you buy directly through a stock transfer agent, only they usually keep the certificate in safekeeping instead of mailing the paper to the investor so that you don't have to worry about losing it.
Many investors hold their shares in a brokerage account. There, shares are held in street name which makes buying and selling them easier. Investors can still opt to receive a certificate, but most do not because brokers usually charge a fee and it's not necessary. Requesting a certificate will put the shares into the shareholders name and out of street name. You can read more about it at this link on Investopedia.
What I typically refer to as DRIP accounts in my regular posts, are more accurately called Direct Stock Purchase Plans (DSPP) that have a dividend reinvestment plan (DRIP) element to them. Computershare, along with Wells Fargo Shareowner Services, Broadridge Financial, and Amstock are all popular stock transfer agents. Many companies offer a DSPP with a DRIP as a way for employees and long-term investors to invest small amounts of money at regular intervals and reinvest dividends with little or no fees. The investor relations websites for companies usually refer interested investors to their stock transfer agent's website.
You can see an example of it here on Verizon's website. Most companies that pay a dividend have a similar informational page.
Some companies allow you to open a position directly through the stock transfer agents listed above. Others require you to buy one share elsewhere before being enrolled in the DRIP.
I personally own two physical certificates, one for Chevron (CVX) and the other for Coca-cola (KO). Back when I started investing in those companies, certificates were more commonly issued.
My uncle gifted me a share of CVX and I've been dividend investing for the last 20 years.
Then I acquired a share of Coca-Cola through a regular stockbroker and paid hefty fees to get enrolled in the Coca-Cola DRIP. The investment is now 20 years old (see my returns here).
Today there are many better options for dollar cost averaging into stocks. My favorite is M1 Finance, a brokerage that allows unlimited buys and sells for a small monthly fee. You can set your portfolio to buy whatever stocks or ETFs you like and every time you add money to your account, M1 Finance buys the shares.
Highly recommended for beginners to intermediate investors. Great mobile app.
Why I'm Transferring Stock from Computershare
Here are the main reasons why I'm transferring stock to TD Ameritrade:
To pool the dividends and diversify into other stocks
To save $12 on fees in the Verizon DRIP plan
To deal with one less form 1099-DIV at tax time
It's easier to track cost basis from now on
You may have read some debate on dividend growth blogs over whether to reinvest dividends into a company or to pool funds and buy shares of another company.
I previously reinvested my dividends for all the DRIPs I owned. But I've since started pooling funds in my main brokerage account to reinvest into undervalued stocks.
For Verizon, I reinvested my dividends for years. I wrote extensively about this in a post called 10 Year Anniversary of Buying and Holding Verizon. In that post you can look at a spreadsheet with the historical data regarding each and every buy and dividend reinvestment.
After slowly building my position to 194 shares, I was receiving $109.21 per quarter in dividends and $438.44 annually in 2014. In 2017, those same 194 shares paid me $114.56 or 457.84 annually thanks to dividend growth.
Instead of reinvesting the dividends, I want to put that money into new stocks to diversify my portfolio. Verizon is already a large percentage holding in my portfolio. While I still like the business, they have made some big debt moves recently, so it is prudent to further diversify into other stocks.
Verizon is the first stock that I transferred out of Computershare. I followed it by transferring Emerson (EMR), Coca-Cola, Chevron, Aqua America, Procter & Gamble, and Bank of America (BAC).
Another big motivator for transferring shares was the cost of reinvesting dividends. Verizon charged me $3.00 per quarter to reinvest the dividends. These kinds of fees are common with DRIPs and often change over time. But some companies pay the fee for you.
Coca-cola charges $2.00, and Chevron only charges a few cents at the moment. Aqua America on the other hand, actually discounts the price of their stock 5% if you reinvest your dividends in DRIP. All the plans are different so you need to keep up with the fee schedules.
When I did my taxes this year I had a number of Forms 1099-DIV's to contend with. For every DRIP I participate in, I get a separate 1099-DIV. With a brokerage account, you get one consolidated 1099-DIV, making the dividend input for taxes much simpler. This helps to simplify my finances over the long-term.
Lastly, I can calculate my cost basis now and enter that into TD Ameritrade. Going forward, I don't have to be as meticulous tracking it every time I make a transaction.
Also, dividend reinvestment is not built into the TD Ameritrade platform. TD Ameritrade offers the service for free, but it takes a phone call to set up and there are limitations. Since I am not looking to add any new capital to Verizon any time soon and I want to pool my dividends, I'm not concerned with either downside.
How the Transfer Went
The transfer went very smoothly. I was a little bit apprehensive about the administration of the move, but it was quick and easy. Coincidentally, a local representative from TD Ameritrade called me to ask if I had any questions about my account right around the time I was thinking about the transfer.
He said TD Ameritrade would gladly bring the shares into my account with them and he emailed me the form to use. He also said if Computershare charged me a fee to make the move, TD Ameritrade would refund up to $75 to cover the expense.
I filled out the form and specified that I only wanted the Verizon shares to be moved. Only whole shares could be moved. So whatever fractions of shares I had left in Computershare would stay until I sold them.
This worked out perfectly since my balance was 194.046212 shares. 194 shares would go to TD Ameritrade and 0.046212 would stay at Computershare. When I sell the last fraction of shares, I'll net just $2.25, so that will be the cost to close out the account. If I do this in the future with other holdings, this is important to keep in mind. Computershare did not charge me any other fees.
Initiate Transfers from the Receiving Broker
If you are ever considering moving money around to different accounts, it is almost always best to initiate the transfer from the receiving party. Why? Because it's a competitive world and brokerages want your money badly. They'll move it as fast as possible and gladly answer any questions along the way.
For me, the transfer took less than a week once I mailed the form. My shares showed up in my TD Ameritrade account and were removed from Computershare overnight. I sold the remaining .046212 shares in Computershare last week. Next year at tax time I'll have one final 1099-DIV from Verizon. From then on, the Verizon dividend tax information will be included in the TD Ameritrade consolidated 1099-DIV.
Verify Cost Basis with DRIP Transfers
I've initiated five or six of these transfers now. I'm finding that more often than not, the cost basis is not transferred correctly.
So I must strongly recommend that you verify cost basis every time you transfer DRIPs into another brokerage.
Transfer agents were not required to record cost basis prior to January 2011. Before then, the investor was on his/her own. If you started a DRIP after December 2010, the transferring company (i.e. Computershare), should make available the cost basis for every single stock and dividend purchase. In addition, the receiving brokerage (TD Ameritrade in my case), needs to import the cost basis data.
More than half of the transfers I've complete, the cost basis was messed up. Most recently, Procter & Gamble (PG). These shares were transferred to Wells Fargo because of a plan switch, and when I moved them to TD Ameritrade, none of the cost basis was transferred. I had to use the records from Computershare and my own spreadsheet and email the numbers to TD.
For Emerson Electric (EMR), only the shares I purchased after December 2010 were transferred. So I needed to contact TD with the numbers for shares I bought prior to January 2011. This has been a bit of a hassle.
Catepillar, and Clorox, on the other hand, transferred OK. CSX, which I transferred out of Broadridge (which started in Computershare), transferred some of the cost basis, not all.
As easy as the process it, and according to how the law has been explained to be, the brokers should not be screwing this up. But they are.
The consequences are if you go to sell a stock and the cost basis is zero or lower than your actual cost basis, you'll pay taxes on the entire proceeds!
Please make sure you verify cost basis every time. Your broker should be there to help fix any mistakes. TD Ameritrade has been pretty good on this, aside for some fat fingered input on occasion.
Have you had any good or bad experiences transferring stocks recently?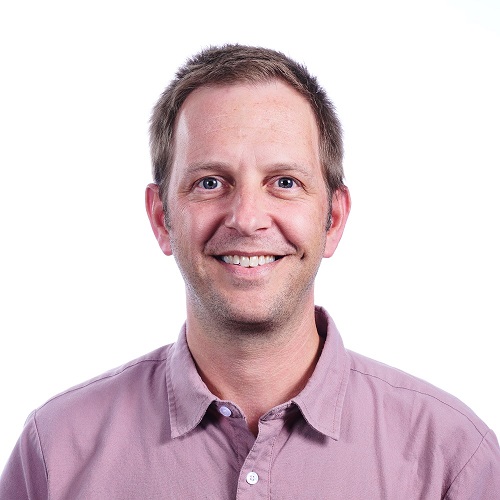 Craig is a former IT professional who left his 20-year career to be a full-time finance writer. A DIY investor since 1995, he started Retire Before Dad in 2013 as a creative outlet to share his investment portfolios. Craig studied Finance at Michigan State University and lives in Northern Virginia with his wife and three children. Read more HERE.
---
Favorite tools and investment services right now:
High Yield Savings — Put idle cash to work. FDIC-insured savings products.
NewRetirement — Spreadsheets are insufficient. Get serious about planning for retirement. (review)
Fundrise — The easiest way to invest in high-quality real estate with as little as $10 (review)
M1 Finance — A top online broker for long-term investors and dividend reinvestment (review)