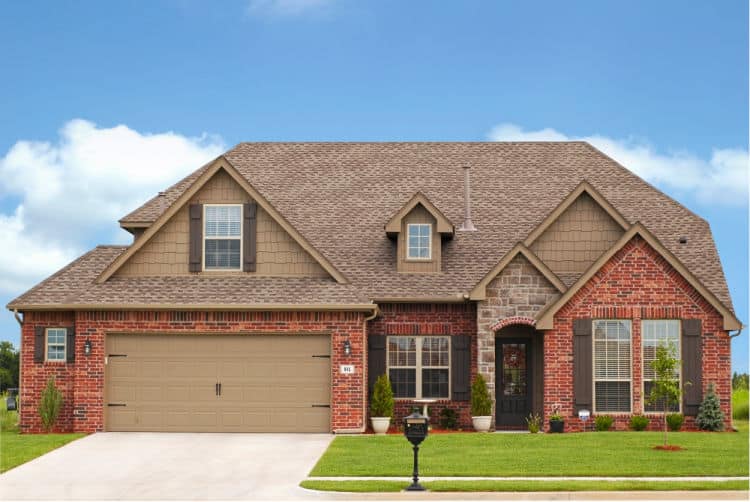 A mortgage refinance can be an excellent way to increase cash flow in your monthly budget if the numbers work. But how do you know when to refinance a mortgage?
Spoiler alert — it depends.
I've gone through five mortgage refinances since 2006, and I'm working through number six now that rates are at historic lows again.
Check out the chart below, the average 30-year fixed mortgage rate since 1971 — it's never been better.
(smartphone users go horizontal to view or click here)
But low rates aren't the only consideration.
I'll step you through my thought process and calculations to determine when to refinance a mortgage and give you a free spreadsheet to run the numbers on your home.
Think of refinancing your mortgage as a long-term investment to create more cash flow. You can calculate your return on investment (ROI) like any other use of cash.
Annualized returns greater than 50% are realistic after reaching the refinance breakeven point. More on that later on.
Compare that ROI to cash savings (horrible right now), or stocks, which have historically provided returns of 8%-10% over the long-term.
I know that 50% annualized returns sounds crazy, but it's true. And the best part is those are risk-free returns.
Refinancing is a super-powerful financial maneuver.
Non-Financial Mortgage Refinance Considerations
Before we get into the numbers, take a step back and think about where you live and if you intend to stay.
How long do you expect to live in your home?
Are you still hoping to move to your dream house someday?
Is your home sufficient for your current and anticipated family size?
Do your job, career, and extended family situation justify where you live?
If you eventually move out of your home, do you expect to rent it?
What is your refinance objective?
A primary mortgage refinance consideration is the expected duration you plan to live in your home. If you plan to live there for at least three (preferably longer), a refinance may be beneficial if the numbers work.
Factors that could drive you out of your home prematurely could include a new child, moving out of town for work or family reasons, or finding that perfect home in the same school district.
Think about the likelihood of any of these things happening using that three-year horizon. Don't go through the hassle and cost of a mortgage refinance if you might leave your home.
If you're considering keeping the home and renting it in the future, refinance before moving out. You'll get an excellent rate as a live-in owner compared to what you'd get as an investor/landlord.
Finally, what do you want to accomplish with your mortgage refinance?
Refinance Objectives
There are three primary reasons to refinance a mortgage.
Lower your monthly payment (free up cash flow)
Shorten the loan payoff term (pay off your home sooner)
Cash-out refinance (access home equity)
Holding a mortgage vs. early repayment is one of the most dividing topics in personal finance.
You need to decide which option is best for you before proceeding with a mortgage refinance.
1. Lower Monthly Payment
A great reason to refinance is to lower your monthly payment. A lower payment has significant advantages:
If you're more than five years into paying off your current mortgage, a new 30-year loan with a lower interest rate will likely reduce your payment enough to make it worthwhile.
Some people want the peace of mind of outright homeownership. Others would rather always have a mortgage and invest as much money as possible.
Financial advisors and many investment professionals encourage individuals always to stretch the mortgage term out as long as possible.
Stretching out the term will increase the amount available to invest or pay off higher-interest debt.
Since long-term investment returns average about 8%-10% in the stock market, it mathematically makes sense to borrow at a lower rate and invest for capital growth or passive income over the loan duration.
Read more: 7 Strategic Ways to Lower Your Mortgage Payment
2. Shorten the Loan Payoff Term
Refinancing to a 10, 15, 20, or 25-year loan has benefits too.
Reduces the time to pay off the mortgage
Reduces the total interest paid over the loan period (which lowers the total cost of the home)
Qualify for lower interest rates for 10 and 15-year loans
Refocus on the ultimate goal of outright homeownership
Some people, myself included, would like to pay off their mortgage before retirement.
If you have a similar mindset, a shorter loan duration is an efficient way to do it.
Ten and 15-year interest rates are lower than 20, 25, and 30-year, and more principal goes toward paying off the loan from the beginning.
20 and 25-year interest rate loans are usually the same as a 30-year loan, so there's no rate benefit. But these terms can be a good option if you don't want to go back to a full 30-year loan.
If you choose a loan with a shorter term than what's left on your current mortgage, it may be challenging to lower your monthly payment with a refinance.
You'll need to be comfortable with a higher monthly payment in your budget.
Another option is to shorten payoff on your current loan by paying extra mortgage payments. But a shorter-term loan and a lower rate will accelerate progress.
3. Cash-Out Refinance
For people who have a lot of equity tied up in their house due to long-term ownership or price appreciation, a cash-out refinance can help the homeowner get the money back.
Homeowners often do a cash-out refinance to pay for home improvement projects and additions. It's usually the most affordable way to borrow money for such projects.
Cash-out refinances are best suited for people who intend to keep working and are not as common for those pursuing early retirement.
Mortgage Refinance Spreadsheet
I run the numbers each time rates hit new lows, which has happened eight times so far in 2020.
Last week, the average 30-year fixed-rate hit 2.88%, and the 15-year hit 2.44%— and those are the averages. Highly qualified borrowers can get rates lower than that.
Start shopping for rates online at a reputable website such as Credible*, where you can compare customized rate quotes from multiple lenders within a few minutes (advertising disclosure). That's where I started my search this time around.
Since 2006, I refinanced my investment condo three times, and my home twice (so far).
Five may sound excessive, but each one saved me thousands of dollars after recovering the closing costs. The reduced payment boosted my cash flow and lowered the amount of interest I paid.
Here's a spreadsheet with sample data I created to help you determine when to refinance a mortgage.
Free Mortgage Refinance Spreadsheet
The spreadsheet is easy to use. Only fill in the bold blue fields in the input parameters area, and the rest will fill in automatically.
On the first tab, enter your current mortgage information. Make sure to put both the original loan amount and the current balance.
Enter the terms of the new mortgage on the second tab, including the new loan amount, interest rate, and term.
If you plan to put additional principal toward paying down the loan at the closing, reduce the loan amount. I've done this a few times to reduce the principal and payment.
Escrow should stay the same unless you're able to eliminate private mortgage insurance (PMI) during your refinance.
The third tab is a side-by-side comparison that automatically populates from earlier inputs. Here's what it looks like with sample numbers.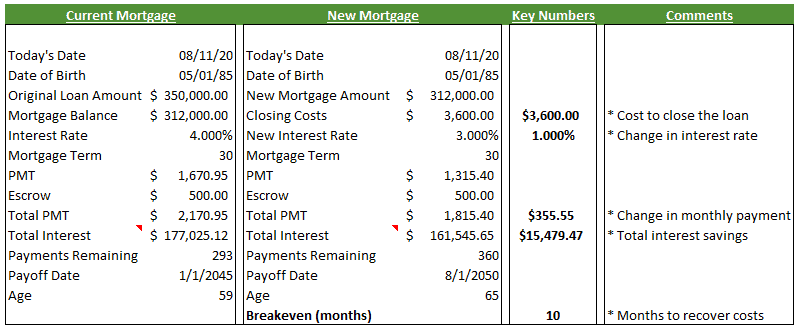 The Key Numbers column gives you the output you need to make your decision.
Play around with the inputs on the first two tabs. I find it useful to experiment with extra payments, which I've built into the amortization tables. Extra mortgage payments can dramatically reduce the total interest paid over the life of the loan.
But extra payments come with an age-old dilemma: should you pay down the mortgage or invest?
Three Mortgage Refinance Rules
I use three rules to determine when to refinance a mortgage. The first is a hard set rule. The second two are rules of thumb, open to adjustments depending on your situation.
Important — use specific numbers (not rules of thumb) to make the final determination of when to refinance a mortgage or not.
I based these rules on zero point loans, meaning no prepaid interest or lender credits.
Rule #1 — Don't Guess – Calculate the Exact Numbers
There's no substitute for math. Use my spreadsheet or create your own.
Or look for online calculators, but they don't give you the detail and flexibility you'll get in a spreadsheet.
Figure out the new monthly payment (using the PMT Excel function) and calculate the savings based on your current mortgage and published mortgage interest rates.
For closing costs, start with a ballpark estimate. Then get the exact numbers from your loan officer.
Ask for a "good faith estimate," which should be very close to the HUD-1 form that will be part of your refinance closing documents.
Do not include prepaid taxes, HOAs, or hazard insurance costs in your closing costs. Make sure it's only the actual costs to refinance, such as origination fees, title fees, appraisals, points, title services and insurance, and recording fees, etc.
If you decide to move forward, make sure the payment on the HUD-1 matches your spreadsheet to the penny. If not, figure out why.
Rule (of Thumb) #2 — Lower Interest Rate by 0.50%
Aim to get an interest rate of at least 0.50% lower than your current rate. More is better.
For example, if your current mortgage rate is 4.0%, a refinance is worth exploring if you can get a rate of 3.50% or less.
You'll see more impact on the final payment amount if your current balance is high or you've been paying down your mortgage for more than five years.
Make sure you compare apples to apples using zero-point mortgage rates, meaning you don't pay extra upfront to lower the rate or accept credits upfront for a higher rate.
Rule (of Thumb) #3 — 12-Month Breakeven Point
The refinance breakeven point is when the savings from a reduced payment surpasses the cost to refinance. As stated in Rule #1, only use actual costs to close, not prepaids.
For example, let's say the closings costs a total of $3,600 for a refinance.
If your new mortgage payment is $300 lower than the previous amount, it will take 12 months to cover the $3,600 cost to refinance. That's a 12-month breakeven point.
At a one-year or less breakeven point and lower interest rate, refinancing is a no brainer.
If the breakeven point is closer to 24-months, it may still make sense to move forward, if you intend to stay in your home for an extended period. However, you may be paying too much to close, or the savings aren't significant enough.
Fannie and Freddie's New Fees
BREAKING NEWS: AUGUST 13th, 2020: Fannie Mae and Freddie Mac announced a new 0.50% fee on all mortgage refinances. That means, for a $300,000 loan, they would tack on a $1,500 fee. This is so shitty I can't even believe it.
An RBD reader who is a mortgage loan officer had this to say about the new fees:
I read about this article this morning at 5 am, and I couldn't believe it. This is an immediate fee of .5% that will be added to any loan closing with conventional financing. That's $1,000 on a $200,000 loan. This $1,000 could have gone to the client/customer who needs it most during the pandemic. This is not a tax, but it has the same impact, in my opinion — it will deter some borrowers from refinancing. If the fee sticks, it will hurt the mortgage business all over America. — John Stefanek, Loan Officer, Ft. Wayne, IN
Thanks for weighing in, John. The extra fees may not derail your refinance if there's enough savings, so run the number to be sure.
UPDATE: The is delayed three months until December 1st, 2020.
Enjoy Risk-Free "Returns" on your Refinance "Investment"
In the above example (Rule #3), it will take one year to break even, but you'll continue to save an extra $300 per month going forward.
At the end of the second year, you'd have $3,600 of excess cash flow more than you would have had if you didn't refinance.
In other words, you "invested" $3,600 into your refinance. After two years, the total "return" is $3,600.
That's a 50% risk-free annual return on your money after two years.
But it gets better.
After three years, your total return is $7,200, or a 66% annualized return.
After four years, your total return is $10,800, or a 75% annualized return.
After five years, your total return is $14,400, or an 80% annualized return, and so on.
Keep in mind, this is a simplistic calculation. Since you don't receive the cash savings all at once, you can use an internal rate of return (IRR) calculation for a more accurate result.
Use the spreadsheet to calculate your specific scenario.
Cash Flow Savings vs. Total Interest Savings
In the examples above, we're talking about cash flow savings. Extra cash flow helps to create breathing room in your budget and leaves more money left over each month to invest.
Compound your savings even more by investing the excess cash flow into income-producing assets. Pay off high-interest debt first, if you have any.
But cash flow savings can be deceiving. Yes, you get a monthly benefit and "ROI" you can use to invest in wealth-building assets. But the total amount you pay for a property is measured by the purchase price plus total interest paid.
A successful mortgage refinance will reduce the total amount of interest you pay during the life of the loan, which lowers the total cost to purchase the home.
Use a spreadsheet to calculate the total interest you would pay on the remainder of your current mortgage compared to the total interest on the new mortgage.
A shorter duration loan or extra monthly payments will reduce the total interest paid over the life of the loan.
For illustrative purposes, another chart from the spreadsheet plots cumulative interest on the remainder of a current mortgage vs. a refinanced mortgage. The difference between the top and bottom lines is the total interest savings.
In the spreadsheet, you can see the monthly savings and use that to determine an interest savings breakeven point (when measured against closing costs).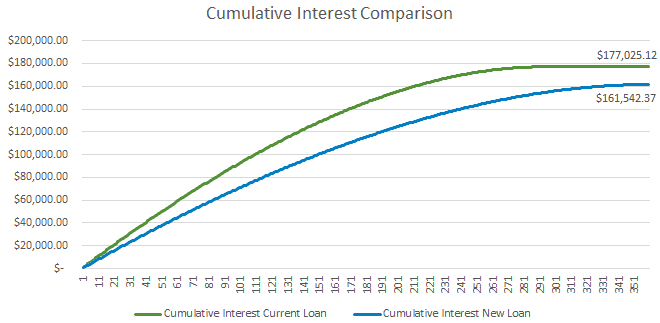 The savings can be significant, especially if you add extra payments.
The average mortgage is held for less than ten years, so many people never get far enough to watch this play out.
That's why I prefer the cash flow savings calculations because the monthly savings are immediate and tangible in your bank account.
Conclusion – When to Refinance a Mortgage
For more information about mortgages and refinancing, check out Your Home Loan Toolkit: A Step-By-Step Guide from the Consumer Financial Protection Bureau.
A mortgage refinance can improve your financial situation by lowering your monthly payment or getting you closer to becoming debt-free.
Though refinancing can be a hassle to assemble supporting documentation for the loan officer, it's often worth it. Electronic processing and signatures have made the experience easier in the past decade.
Closing costs can vary, so ask your loan officer for discounts where possible and shop around if necessary.
As for which refinance objective is best for you, I can't help you there.
Since my goal is to be completely debt-free in retirement, I'm looking to reduce my mortgage term to 20 years. That makes me debt-free at 65, ten years after my retirement goal. I'll be adding extra payments well before then.
Being mortgage-free is not a prerequisite for retirement, but I don't want to carry one into my 60s.
If I don't like being mortgage-free when I get there, I can always turn around and get a new loan.
What additional factors do you consider to determine when to refinance a mortgage?
* Advertising Disclosure: RBD partners with several companies that offer products and services that may be beneficial to readers. Credible offers rate comparisons on many loan products, including mortgage refinances and student loans. RBD only recommends reputable companies that have been tried and or vetted by the author. This content is not provided by Credible or any of the Providers on the Credible website. Any opinions, analyses, reviews or recommendations expressed here are those of the author's alone, and have not been reviewed, approved or otherwise endorsed by Credible. RBD is compensated for customer leads at no additional cost to readers. Credible Operations, Inc., NMLS Number 1681276, not available in all states.
Photo via DepositPhotos used under license
Favorite tools and investment services right now:
Credible* - Now is an excellent time to refinance your mortgage and save. Credible makes it painless.
Personal Capital - A free tool to track your net worth and analyze investments.
M1 Finance - A top online broker for long-term investors and dividend reinvestment (review)
Fundrise - The easiest way to invest in high-quality real estate with as little as $10 (review)
*Advertising Disclosure: RBD partners with Credible which offers rate comparisons on many loan products, including mortgage refinances and student loans. This content is not provided by Credible or any of the Providers on the Credible website. Any opinions, analyses, reviews or recommendations expressed here are those of the author's alone, and have not been reviewed, approved or otherwise endorsed by Credible. RBD is compensated for customer leads. Credible Operations, Inc., NMLS Number 1681276, not available in all states. 320 Blackwell Street, Suite 200 Durham, NC 27701.