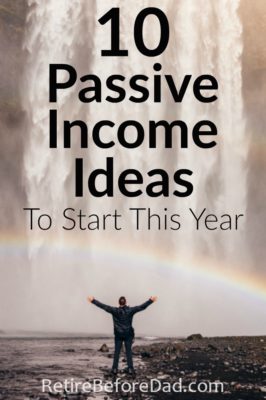 We all share a common goal each year… to become wealthier. The savviest build wealth not by exchanging their time for money, but by investing their time and money in schemes and investment vehicles that earn a return.
To help motivate you to achieve your wealth building goals, I've compiled a list of 10 passive income ideas to focus on building this year.
Keeping track of passive income streams and investments can be tedious using a spreadsheet. So I switched to a free online tool which makes things easier. Kind of like Mint but way more useful for investors.
Subscribe to my email list for more passive income ideas and strategies in my weekly articles. You'll also receive the free eBook, 6 EASY Income Streams You Can Start Building TODAY.
With that, here are 10 passive income ideas to power your wealth building machine.
10 Passive Income Ideas
1. Real Estate Crowdfunding
Real estate crowdfunding is one of the most promising passive income ideas today. It's a new opportunity because the U.S. laws were only recently loosened via the 2012 JOBS act.
Through real estate crowdfunding, you can invest in commercial and residential real estate opportunities with experienced real estate developers, all from the comfort of your computer or phone. Invest in strong markets where you don't live to diversify your portfolio.
Due to the hands-off, long-term nature of these investments, real estate crowdfunding is about as passive as investing can get. It's my top pick for 2017 and beyond.
Here are three of the top platforms. I am personally investing on all three.
RealtyShares
My top pick for real estate crowdfunding this year is RealtyShares. Read my full RealtyShares review here. RealtyShares has harnessed technology and the new crowdfunding laws to create an easy user experience for the couch potato investor.
Members build portfolios of investments and receive regular payments which can be reinvested into more real estate deals. You can build both geographic and investment type (debt or equity) diversity. It's all done through the user-friendly RealtyShares website. Super slick and easy.
For now, RealtyShares is only for accredited investors and minimum investments start at $5,000. RealtyShares empowers investors to access solid real estate markets without actually living there.
There's a current deal to earn a $100 bonus when you make your first investment using the promo code "Partner100".
Build Passive Income With RealtyShares
Fundrise
One of the most innovative high-growth real estate crowdfunding platforms is Fundrise. Also a favorite of mine because anyone can invest for a low minimum. This Washington D.C.-based startup has created a simple way for all U.S. based investors (including non-millionaires) to invest in commercial real estate through eREITs. eREITS are not publicly traded. Instead, you own them through Fundrise.
Update: Fundrise has introduced the new Starter Portfolio. Investment minimums have been lowered to $500 from $1,000 until December 31st, 2017. Start investing today.
The eREITs are comprised of various commercial real estate investments that are thoroughly vetted by real estate investing professionals at Fundrise. The minimum investment is only $1,000 $500, and dividends of 8%-11% are paid quarterly.
Dividends are typically higher since the funds are directly invested in real estate deals, and there's no publicly traded company to operate like a traditional REIT. And there's the potential for long-term appreciation.
Since these aren't publicly traded, liquidity is only available quarterly. But these are meant to be held long-term to reap the dividends. Investment horizons are typically in the five-year range, making eREITs a long-term and passive income idea.
As an investor for the past six months, I highly recommend checking it out. Read my full Fundrise review here.
Build Passive Income With Fundrise
PeerStreet
Another quickly growing crowdfunding platform is PeerStreet. On PeerStreet, you invest in debt deals for mostly residential fix and flips and cash-outs. The company is backed by serious venture capital money (Andreessen Horowitz) and Michael Burry of The Big Short fame (the guy that called the 2007 real estate bubble).
The platform is simple and easy to use. All investments are backed by the real estate so it's safer then many of peer lending platforms. Minimum investment is only $1,000, but you need to be accredited to open an account.
The deals on PeerStreet all debt deals. Usually fix and flips. So these are low-risk, first lien loans you're investing in. Yields are typically 6%-12% and geographically diverse.
Build Passive Income With PeerStreet
2. LendingClub + LendingRobot
Peer lending is still a reliable passive income source despite the industry's bumpy 2016. Lending Club is by far the leader for both investors and borrowers. Through Lending Club, borrowers can save thousands by refinancing their debt. Investors earn interest by lending the money to borrowers in small increments, as little as $25 per loan. The small investment amounts spread the risk of loan default.
I've been investing in LendingClub for almost four years, earning greater than 9% each year in passive income. To make this investment even more passive, you can utilize tools like LendingRobot or NSRInvest to automate note selection. For a more detailed explanation of how this works, read my LendingRobot review and my most recent (though a little outdated) Lending Club investing review.
3. Refinance Debt
Technically, this isn't passive income. It's passive savings. But it's so easy and powerful that you should always look for refinancing opportunities. Doing so will help you strengthen cash flow, build wealth, and empower you to invest more.
My favorite refinance opportunities are:
4. Move Cash to a High-Yield Savings Account
The U.S. economy has experienced low interest rates since the financial crisis of 2008-2009. Young people are too accustomed to super-low rates and don't bother with high yield savings accounts. But they should.
Most retail banks pay little to nothing for savings.
But prior to 2008, savings account interest rates of 2%, 3%, or even 4-5% were not uncommon. So instead of investing in stocks, you could just put your money in the bank and get a decent yield on your cash.
Those were the days. My first passive income stream was a passbook savings account at age eight.
In December 2015, the Federal Reserve started raising interest rates. Economists are expecting more in 2017 and beyond.
What that means is banks are going to start raising the rates they pay to savings and money market accounts. And as rates rise, banks will regularly increase their rates. The effect on your account is similar to dividend growth. The cash earns more and compounds while you sit and do nothing.
My top pick for high-yields savings today is CIT Bank. They currently offer 1.35% yield on their Premier savings account. This account has no fees and a low $100 minimum to open.
5. Start a Blog or Online Business
A blog is a way to generate passive income… IF… you put in a ton of time up front. Blogging supplements my day job income with several hundred dollars every month (learn more about how I make money on RBD on this blogging resources page).
The income fluctuates, but the longer you blog, the more your efforts can be monetized. And the smarter you get.
There are a few caveats here. You can't put a bunch of crap on the internet and expect to make money from it. Audiences want unique, high-quality and helpful content that entertains and solves reader problems.
Blogging also takes a massive commitment. You can't be half-assed and expect to make money. At least, not until you've established yourself online. Consistency, quality, and endless promotion are necessities.
That doesn't sound passive, does it? However, once your online presence is established, much of the work continues to earn income without residual work through search and automated social network traffic.
If writing isn't your thing, there's plenty of ways to make money online.
For those committed who find the right audience or business idea, the money is out there for the taking. You need a domain name and website to get started blogging or running a business online. If you're interested, I've put together an article on starting a blog or online business. Read it here.
I use Bluehost to host this site. It's perfect for beginners because it's reliable and the cost is low. If you decide you don't like blogging, your loss is minimal.
6. Buy Dividend Stocks
I've been investing in stocks for more than 20 years. Back when I started, you needed to utilize dividend reinvestment plans (DRIPs) to be able to invest small dollar amounts. Otherwise, you had to call a stock broker and pay a ton in fees.
Because online investing is so accessible now, I recommend avoiding new DRIP programs in favor of low-cost online brokers. Some charge no fees to buy and sell stocks. Others offer a slew of traditional services including research, options trading, bonds, and IPOs, in addition to simple buy and sell orders.
They say the best time to start investing in stocks was 20 years ago, and the second best time is now. Below is a list of online brokers that I recommend.
Ally Invest – Formerly TradeKing, Ally Invest is a low-cost full-service broker. Trade stocks, ETFs, funds, and bond and utilize one of the best option trading platforms out there. Trades as low as $3.95.

TD Ameritrade

–  Tried a true, full-service investing platform. Awesome research, trading, options, bonds, ETFs, and mutual funds on both mobile and desktop. $6.95 stock trades.
Stockpile – This broker is good for low cost dollar cost averaging. Buying and selling only costs $1, but it's done through batch purchases once a day. What really cool is they make gifting shares as easy as buying a gift card. You can also easily open custodial accounts for you kids.
7. Buy Index Funds and ETFs
For those that don't have the time or knowledge, there's plenty of other investment vehicles that still pay quarterly dividends.
Index funds and ETFs give you wide coverage in the stock market and pay dividends. There are thousands to choose from, but most investors choose the biggest and most liquid ones. Buy them through a low-cost full-service broker such as Ally Invest.
Below are a few popular index funds and ETFs for income:
Vanguard Total Stock Market Index Fund (VTSMX)
Vanguard Total Stock Market ETF (VTI)
Fidelity Total Market Index Fund (FSTMX)
SPDR S&P 500 ETF (SPY)
Vanguard 500 Index Fund Investor Shares (VFINX)
Vanguard S&P 500 ETF (VOO)
Schwab US Dividend Equity ETF (SCHD)
iShares Select Dividend ETF (DVY)
Vanguard Dividend Appreciation ETF (VIG)
8. Self-Publish a Book
Sounds daunting, right? However, eBooks don't need to be extended novels. I've paid $4-$5 dollars for 40-page eBooks that were worth every penny. If you're knowledgeable on a subject, or entertaining, you can create a quality piece work and reap the benefits for years to come.
Amazon's rise to domination in publishing has empowered writers, creative people, and experts to easily make money from their work while bypassing the middleman (publishing companies).
I've spoken to a number of blogger friends who have self-published books. Once your book is written, just follow a simple online guide or course to monetize it. My friend Joseph Hogue has self-published several books and receives passive monthly cash flow for his prior efforts.
To explain how it works, he's written a free 4-step article on how to publish a book on Amazon that contains everything you need to start earning.
There are a few ways to make money from eBooks:
Sell on your own website (as a PDF file)
Sell as an eBook on Amazon
Sell as a paper book through CreateSpace on Amazon
Record a spoken version of the book and sell through Audible
Many bloggers, including myself, already have a book or two worth of content written. So it's a matter of packaging the existing content into a book and formatting for Amazon. Joseph steps you through the process and explains how you can outsource a lot of the tasks to experts for a very low cost.
Prioritizing time is the big challenge for me. Even if you don't have a blog or content already written, we all have passions and expertise to share with the world. Why not share it and get paid for it?
9. Create YouTube Videos
Did you know that the most watched channel on YouTube stars a five-year-old kid who plays with toys? The channel, Ryan's Toy Review, was only started in March of 2015. It took less than 18 months to beat out Justin Bieber as the biggest star on YouTube.
When our kids started watching Ryan, Mrs. RBD and I were like WTF is this crap? But the kids are hooked. It's estimated the channel makes about $11 million per year.
It doesn't take billions of page views to make money. A fuel line tube corroded on my leaf blower and the replacement was tricky. Two videos of dudes fixing the same problem on the same blower came up.
The videos saved me from buying a new blower (or paying a repairman). And the content creators made money through display ads on YouTube and can direct viewers to a website or other online product for purchase. Lots of entrepreneurs are utilizing YouTube for passive income.
To be successful, you need to find a niche, put in the work to create compelling or useful content, then promote it. YouTube and Google will send some organic traffic if people are searching for what you're providing.
For someone with on-camera talent or video production skills, creating YouTube content may be a passive income idea for you.
10. Write for Seeking Alpha
If you're an active investor and know a thing or two about stocks, Seeking Alpha is always accepting high-quality articles. It helps if you already have writing experience, but anyone can create an account and submit articles.
Seeking Alpha pays $35 for a basic article, plus $.01 per desktop page view. So, for example, if you write a piece that gets 5,000 desktop page views, you earn the $35, plus another $50 on top of that.
But here's the kicker, you earn $.01 for every page view in perpetuity.
Over three years I wrote a handful of articles for Seeking Alpha, and they still earn me money. Even though they're old. Though outdated, they still get minimal search and organic traffic. So if you write consistently you can build a solid income stream.
Of course, fresh content earns the most. And article popularity varies. So for best results, you need to keep at it and write about widely-owned stocks.
Seeking Alpha offers an excellent opportunity to monetize by sending traffic back to your own website (see this article as an example… and I'll earn a penny if you click that link!). They've also built a subscription platform option for well-established authors.
There's probably a slew of other similar sites about topics other than stocks. Go find your niche!
Conclusion
Some of these passive income ideas may work for you while others may not. I personally have no interest in creating YouTube videos. I'm not comfortable on camera. Though maybe my son could do it!
Real estate crowdfunding is my top pick for the year and I expect to start one or both platforms before the summer. I'm also increasing planning to increase ETF exposure to match the market performance and keep fees low. I'll also write more for Seeking Alpha if the right stock ideas come to mind.
You may have other passive income ideas you'd like to share. Please do so in the comments section. And remember, this list is just a slice of what's available. Utilize these, go out and find more passive income ideas, or create your own.
Photo Credit: Jared Erondu via Unsplash